Most of us are familiar with the use of torque wrenches which are one of the very useful tools used in most of the tool rooms and workshops for tightening bolts etc. However, in this post, we shall discuss about the same operation by using certain new tool.
Nowadays, a recent development has taken place in the tool room equipment, where hydraulic tensioners are used for tightening bolts.
In order to make use of this new tool, you will need to start with bolt which has certain end that protrudes much above the tightening nut, and the then annular hydraulic cylinder will be placed around bolt, to apply cold extension.
Your bolt will undergo axial traction load, and the nut will be turned down with very little effort, without really transmitting torque to your bolt.
As the tensioner will release its fluid pressure, majority of hydraulic load on tensioner will be   transferred to nut and tightening will be completed.
Following are few benefits obtained by using this hydraulic bolt tensioner:
The tightening will be very accurate. By using hydraulic bolt tensioner, the traction load will be controlled by hydraulic pressure in tensioner, thus allowing for much more accuracy. Load will not be dependent on friction efficiencies of assembly.
There will be no damage to any components while using such hydraulic bolt tensioners. The internal stresses will be controlled and it will not generate any friction under heavy amount of bearing pressure.
It is much easier to perform hydraulic bolt tensioning and needs no physical exertion, for even with any large bolts. Therefore, much safer workplace and also happier workforce.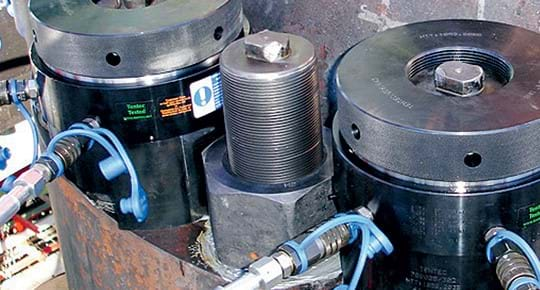 You can eliminate torsion stress within the bolt by using hydraulic bolt tensioning.
Hydraulic tensioning will work with a range of materials, like stainless steel, titanium, composite materials and others. It is also a method which will work on wide variety of bolt diameters.
Besides tightening, this hydraulic bolt tensioner can also make it much easier to untighten the bolts. The needed hydraulic effort will typically be around 1% greater than the effort required for previous tightening phase.
Hydraulic bolt tensioners as we mentioned above are quite accurate, however in the fastener world, it is very crucial to be sure about your tools.
Therefore, it is necessary to use bolt tension calibrator that is used for certifying all bolts, hydraulic wrenches, tensioners and other multipliers.
You can also explore for more details about this new tool on the internet before you put it in actual use in your workshop.